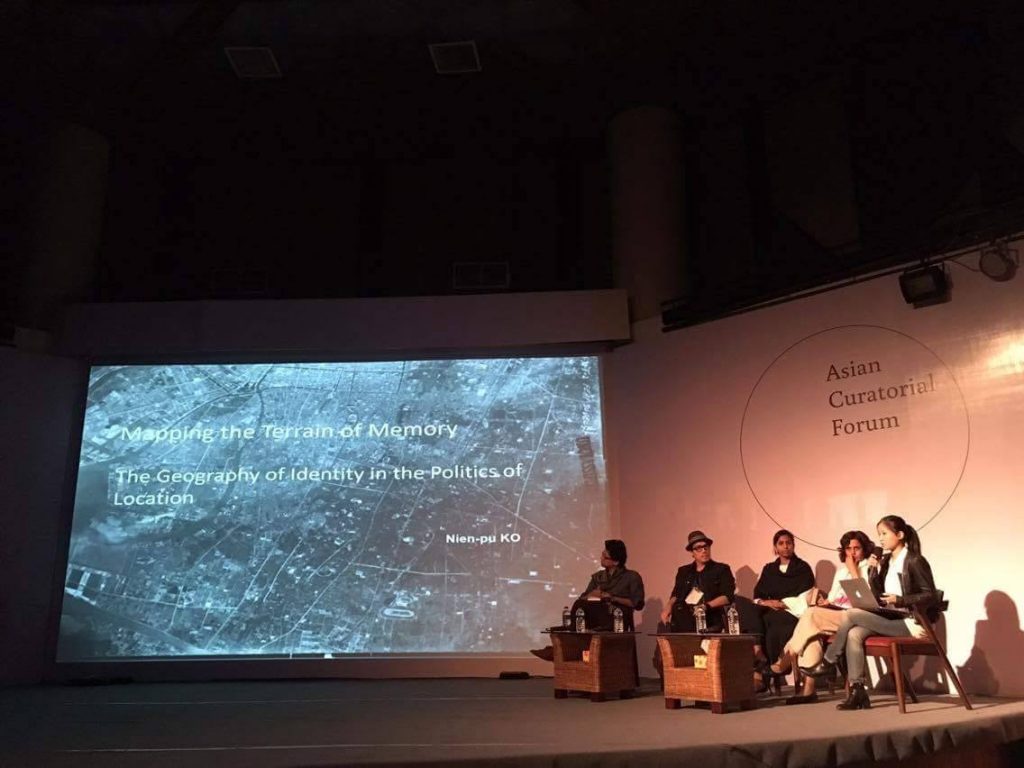 Asian Curatorial Forum, 2017; photo courtesy of Alice Ko (right)
Alice Ko: First of all, thank you for agreeing to join this interview. You have taken on an active role as the curator in many institutions, and your work is mostly focused on the topics focusing on South Asia. Could you talk a bit about your respective backgrounds, and what inspired you to become a curator? Is there any rupture between your earlier and later works?
Haema Sivanesan: It may be relevant to begin with some biographical history as a means to locate myself in the context of this conversation: ethnically, I am Tamil. My forebears were from Jaffna, in the north of Sri Lanka. From what I understand, my great grandfather immigrated to Malaya, as Malaya became part of an expanding British colony. My grandmother, my parents, my brother and I were all born in Malaya/Malaysia. My parents immigrated to Australia when I was five years old, although we regularly spent summer holidays and vacations visiting family in Malaysia and Singapore, and travelling to various parts of India and Southeast Asia. I graduated with a degree in architecture, but was very conscious early on of how the profession was dominated by a white, male, social elite. The values, and the Anglo-European paradigm that underscored this field of study, sat very uncomfortably with me. I focussed my study on South and Southeast Asian architectural history, with a particular interest in Hindu temple architecture and iconography. Then I began working as the Assistant Curator in the Asian Art Department at the Art Gallery of New South Wales, Sydney, Australia, before graduating. My work at the Gallery focussed on the South and Southeast Asian art collection, working on aspects of collections research, major exhibitions and publications. I was able to work with some of the most important scholars in the field at the time. But I found a deep orientalism, I would go so far as to say racism, that underscores the approach to the field of Asian art history, particularly in Australia. I left that role after almost ten years, to work in an artist-run context in Toronto, Canada.
This shift from a large museum to a small artist-run centre on the other side of the world may appear as a rupture, but it felt logical and had a sense of continuity for me. The artist-run centre context gave me a great deal of freedom to think critically about history, and how it informs the contemporary moment. I have found the Canadian atmosphere to be very dynamic, critically-engaged and socially progressive. And I truly enjoy the process of thinking and working with artists. I've since gone on to work in a range of curatorial contexts, focussing largely on Asian and Asian-diasporic practices. I currently work in a mid-sized public art gallery in Victoria, Canada, with a significant Asian historical collection. It is relevant to point out that the issues that we grapple with in diasporic contexts are often different from issues found in curatorial practices within Asia. We are grappling with issues of race, histories of racial oppression and exclusion, the challenges of immigrant experiences, issues of cultural appropriation, and the politics of trans-national identity, typically in contexts where the subjects are members of a minority, and where their histories, experiences and social values are marginalized.  The arts in Canada are not market driven; basically, there is no market. But the culture there sees a social role for artists in building community cohesion, in drawing attention to and examining diverse histories, practices and experiences within a settler-colonial context.
Artists may be considered as agents of progressive social change in the Canadian milieux. It is a very exciting and relevant environment to be working in. And, of course, my role in Canada also affords me the chance to consult for the Bengal Foundation in Dhaka, which is a terrific opportunity to think about how to adapt my experience of working in the West for an Asian concern, and to learn from the South Asian background.
AK: Related to your own experiences working in between languages and contexts in Asia, what are the methodologies that you are researching and applying in your projects?
HS: My training was essentially a rigorous art historical training, but I have also spent a long time working closely with contemporary artists across a range of contexts and practices. I am currently paying a lot of attention to discourses in Indigenous curatorial practices in Canada, where I have begun thinking again about curatorial practice as a practice of care, re-thinking assumptions in museum practice whereby museums have played a significant role in perpetuating forms of colonial violence. This idea of care goes back to the etymological root of the word curate, meaning "to care," traditionally, for objects, or for a collection. But what can this mean as a social practice? What is a curator's role in caring for and stewarding an artistic or cultural ecology?
AK: In working with the Bengal Foundation, could you talk about how the collection is developing in the Bengal Foundation? What are your focus and approach toward this collection?
HS: The Bengal Foundation's collection is large and somewhat eclectic. It is a significant collection because there has been attention to collecting works by an early generation of artists who were associated with the Bangladeshi Liberation. It is a private collection, and essentially the Chairman of the Foundation, Mr Abul Khair, collects with historically informed knowledge, and according to his own particular artistic interests. I'm am not directly involved with the collection's development. Mr Khair's approach to collecting is as a patron in the traditional sense of looking to support an artistic community, that is, from a position of "care"; and he has had close personal ties to a number of the artists that he has collected over the years. He does not collect from an investment perspective, or to follow trends, or from an impulse or desire "to possess," but from a position of deep regard for a generation of artists with whom he identifies. As curators, we have to pay attention to why collectors collect, and the impulse that shape collecting habits, because collectors also tell us something about the role of the visual arts in society.
AK: You've shared in the Asia Curatorial Forum ideas about the collection of modern art from the 1940s to recently, which reflect the colonial history and the formation of Bangladesh as a modern nation state. Could you talk about the research side of this collection? How did you build up the knowledge of about these artworks?
HS: The strength of the Bengal Foundation's collection is in its representation of early modern Bangladeshi art, which is of artistic historical significance because it sheds a new perspective on South Asian modernism from a Bengali Muslim perspective. To date, the history of Bengali modernism has been written from a Hindu and Indian nationalist position, so it is important to think about what this collection might contribute to that understanding; also, to think about what that means today, with the growing fundamentalist sentiment in Bangladesh, on the one hand, and globalization on the other.
The research phase of working with a collection such as this begins with identifying and properly cataloguing each work of art, and analysing the collection, so as to identify the significance of individual works in terms of the artist's oeuvre, as well as in relation to the overall collection. I am looking to understand artistic schools, styles, themes, movements, etc. It is also necessary to assess the gaps – what is missing, who has been left out or overlooked? Who were the teachers? What were the influences? How does this history connect with attitudes to modernism elsewhere, for example, in India, Japan, Europe or the US? This is a conventional art historical approach to curating, and it establishes a basic chronological foundation from which to explore more complex questions.
To date, there isn't a framework for doing art history in Bangladesh. Artists and collectors in Bangladesh have an anecdotal, and informal, awareness of an artistic chronology, but for the most part, there has not been a depth of thinking as to why an artist was significant, or what their contributions may have been. There is a lot of work to do, to even begin establishing a basic framework for such critical interpretation.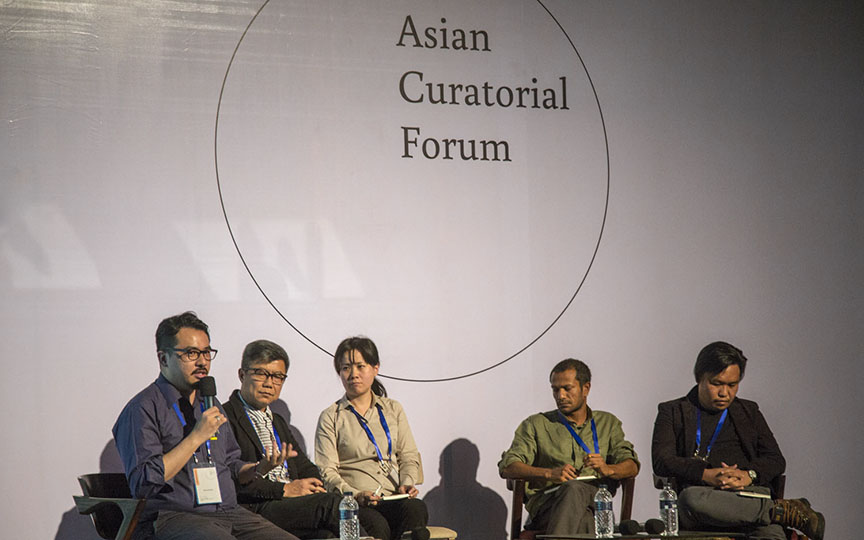 Asian Curatorial Forum, 2017; photo courtesy of Bengal Foundation
AK: The collection presents a generation of artists who are deeply concerned with a unique moment of modernity, as it was experienced in Bangladesh. How do you see those works as particularly relevant to Bangladesh or to Asia, in both the historical and contemporary context?
HS: Perhaps you are asking me, why is this history relevant? Because it teaches us who we are, where we have come from, and assists in shaping our future. The notion or concept of modernity, from outside the Euro-American paradigm, is really not well understood, and many institutions across Asia are paying closer attention to these histories. It is as important to complicate the Western paradigm of modernity, as it is essential toexamining and better understanding Asian and regional histories. The Bengal Foundation's collection illustrates the significant role that artists have played in describing the experience of modernity in Bangladesh, and the contributions that artists have made towards defining an ideological vision for Bangladesh as a modern nation state. Artistic modernity is closely tied to the production of a social and political modernity. Artists can provide an important critique of social modernity, and also provide optimism for the future.
AK: Every collection is somehow a portrait of the time in which it is/was produced. The collection of the Bengal Foundation is significant in the way that it demonstrates the role that artists have played in describing these experiences of modernity in their own nation, and the contributions that artists have made in defining the ideological vision for it. What works or bodies of work are you particularly excited about in the collection? Could you talk about how you interpret the visual languages used to describe the experiences of modernity and its ideology?
HS: I am not sure that I have enough of a handle on the collection at this stage to adequately answer this question. We are still in the process of identifying and cataloguing work before considering what stands out and why. It is a slow process, as we are also working to train staff and build a team, who can ultimately be responsible for the care of this collection.
There are a number of artists in the collection who are much celebrated, for example, Zainul Abedin, S. M. Sultan, Rashid Chowdhury, Rokeya Sultana, Dilara Begum Jolly, among others. The interpretation will require a depth of research critically and conceptually appropriate to examining the ideas, contexts and themes that will emerge.
AK: What's your concept of demonstrating the relevant ideas, as these concern engaging the audience, and enabling them to connect to the works?
HS: This is a big question, and one for which the answers have yet to be worked out. The Foundation engages many audiences – the audience is not singular or monolithic. For me, at this very early stage of working with and researching this collection, the priority is to educate and empower a generation of young Bangladeshi artists and aspiring curators, by encouraging them to engage with their own cultural history, to value it, to learn how to care for it, and to look at it deeply and critically.
AK: In working with collections, you've mentioned the importance of having the knowledge of art history and a methodology of art history, so as to provide a framework for assaying these very issues. But the art historical archives haven't been organized so well, at the current moment, in Bangladesh. Could you share your thoughts on this issue? And, also address how you are archiving, at the same time, in your curatorial practices?
HS: What we are undertaking is a cataloguing process, rather than an archiving process, which is to suggest a process of evaluation, selection and assessment of the relative significance of any work of art, in relation to the overall form of the collection. Artist's archives exist separately from the collection and would include personal papers, letters, sketchbooks, research documents, etc. An archive would be much more comprehensive. The Foundation does have an extensive archive, based on its own work with various artists, but it is not structured as an archive of artists' works and papers. In working with the collection, the cataloguing process is foundational to the curatorial process. It's not possible to identify artistic themes, concerns, attitudes, contributions, without first understanding and evaluating the overall collection.
AK: Recently, new art organisations or institutions have been established among the Asian region. They all proclaim the intention of establishing their position on a regional scale. Together, they appear to present the formation of a regional field of vision. From your perspective, what effect does this trend have on Asian-ness, or on our self-identification as Asian people?
HS: This trend is certainly drawing attention to Asia in new ways, and creating new awareness among collectors and museum professionals in the West, of artistic practices in Asia. This trend also contributes to increasing East-West traffic and globalization in the arts, which has both positive and negative consequences. I think it is important to consider what is driving these trends, and who is driving them – is it the market? Or a larger neo-liberal economic agenda? Is it individual collectors and private initiatives working to enlarge their profiles and agendas? From a diasporic perspective, and as someone who has worked on Asian art histories for the last two decades, this trend is significant to asserting the idea of Asian cultures as contemporary cultures, reflecting renewed economic power and geo-political relevance. But who is it for? What segment of society finds relevance in these institutions? To what extent do these organisations and institutions have an impact at local or grass-roots levels? And to what end? For institutions to have impact beyond certain elite circles, there needs to be an ecology of various scales of organisations, including art schools, artists' studios and residency programs, grass-roots and non-profit organisations and initiatives, along with larger institutions, and including various forms of dissemination. The cohesiveness of this ecology secures a deeper, and ideally, more complex narrative of diverse Asian identities, concerning who can participate with greater confidence and impact in a globalizing cultural environment.
AK: If we defined the museum as a process of recontextualization, intending to confirm meaning, meaning for a certain purpose, what would that purpose be? In this respect, can you articulate the relationship between museology and identity from Asia?
HS: For me, museums are speculative spaces. I would really challenge the notion of the museum as confirming meaning or conferring "authority." There has been a long history of institutional (museum) critiques among artists, including among artists in Asia. As museum professionals, we need to pay attention to these critiques. Further, some of the earliest museums in the world were established by the British in South Asia as centres of colonial survey and repositories of colonial looting. So, we need to also be aware of these histories, in order to better understand our intention in creating museums.
That said, I do believe in the importance of large cultural institutions that have the capacity to incubate, steer and reflect on questions of cultural history and identity. But culture and identity are shifting and dynamic entities. We need to radicalize the idea of the museum so that it can be attentive and relevant to these realities. Museums are a set of "processes": a system for managing collections, information, supporting research, dissemination and the exchange of ideas. But all too often they are conceived of as an edifice, or destination, thus limiting the potential of what a museum can be.
AK: When we discuss Asia, we face the impulses of different states seeking to establish a world or an Asia in which they are at the center. In these circumstances, there are many blind spots in how states within Asia relate to and acknowledge each other. Each of us inhabits a specific reality and culture, and we require an operational solution to overcoming these blind spots in our fields of vision. How do you position yourself in this issue, and in terms of your curatorial practices, which have touched upon issues that focus on art from South Asia?
HS: It's a mistake to think of Asia as a hegemony, just as it is a mistake to think of America or Europe as a hegemony. The impulses of different states to establish themselves as a centre is largely a function of political power. As curators and art historians, we have to consider and address this agenda with some circumspection. Valuing regionalism, and the importance of working from the margins, is an established paradigm in post-colonial thinking. I thought the last edition of the Asian Curatorial Forum in Dhaka was important for its consideration of Asia as a diverse network of regional identities and practitioners. The conversations were not dominated by a "centre," or the assumption of a hegemonic perspective, but looked to bridge healthy and fruitful discussions across vastly diverse contexts and cultures within Asia.
AK: In the final question, I would like to know your expectations for the Asian Curatorial Forum. Could you also talk about your feedback, after exchanging ideas with curators from different geographical and cultural contexts? From your long experience, do art or culture play a role in shaping the identity of Asia, or the idea of Asia?
HS: Certainly, the arts play a role in shaping Asian identities and the idea of Asia more broadly. This is particularly evident in the West, where developments in the visual arts in Asia contribute to renewing and transforming various misconceptions or mis-perceptions about Asia, as they map shifting cultural attitudes and identities within specific Asian nations. But what I was interested in with relation to the Forum, has to do with how curatorial practice is developing in Asia, in a context where the profession is relatively new, and where the institutions are also very new and often without the histories and baggage of Western institutions. I am interested in inventiveness and innovation in curatorial practice in Asia, in ways that are often not possible in the West, and the ways in which Asian curators are able to re-define certain ideas in curatorial practice: working outside of conventional institutional contexts, re-defining the terms and methodologies of research, engaging the public in unexpected ways, etc. I feel slightly let down when artists and curators in Asia aspire to Western models and conventions of practice, since I feel they have exciting opportunities to do things differently and by doing so, defining modes of practice which are relevant to their unique contexts. There is, then, a lot that we can learn in the West from how curators in Asia are working.