Note: Subhas Chandra Bose was an Indian nationalist who attempted to rid India of British rule with the help of Nazi Germany and Imperial Japan. The lack of interest shown by Hitler in the cause of Indian independence caused Bose to become disillusioned. He left Nazi Germany in 1943 on a German submarine in the guise of Mr. Matsuda, following which he took a Japanese submarine to Tokyo where he became Chandra Bose. Eventually Bose left for Rangoon to lead the Azaad Hind Fauj. In Nov 1941, a Free India Center was set up in Berlin with the help of German funds, followed by a Free India Radio (Azaad Hind Radio) broadcasting in English and multiple Indian languages. It is alleged that Bose died in a plane crash in Taipei on Aug 18, 1945, while on his way to the former Soviet Union via Tokyo.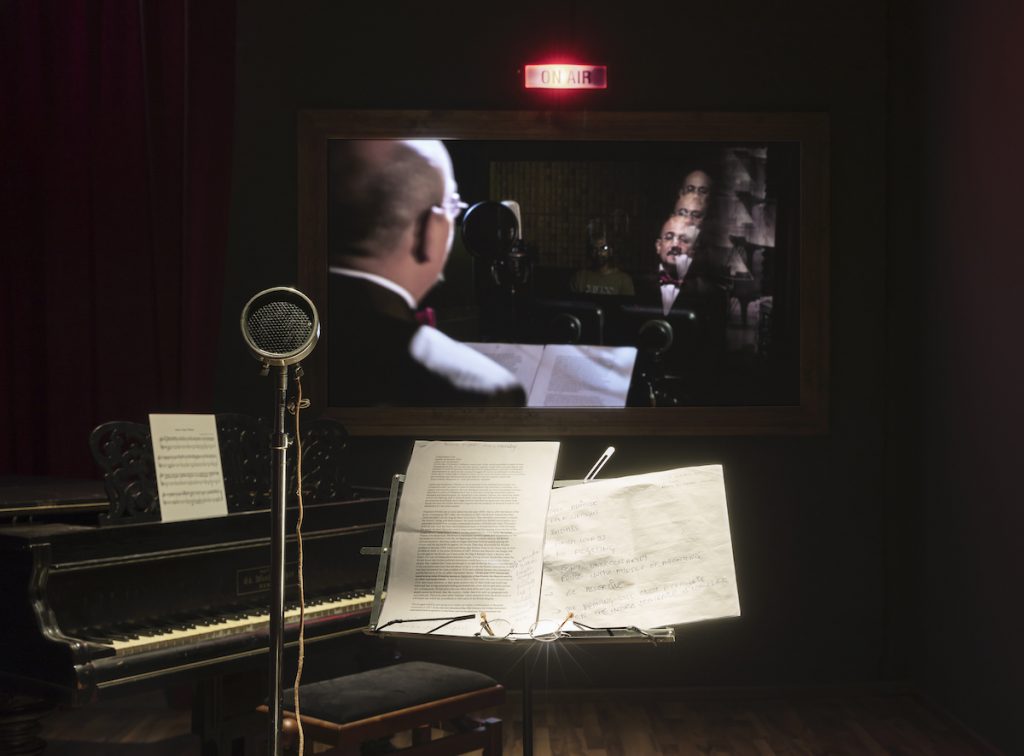 Zuleikha Chaudhari, "Rehearsing Azaad Hind Radio", 2018; Courtesy of the artist, Commissioned and coproduced by Berlin Biennale for Contemporary Art, with the support of Goethe-Institute
I.
Subhas Chandra Bose (23 January 1897 – 18 August 1945), was an Indian nationalist whose defiant patriotism made him one of the most dynamic leaders of India's struggle of Independence, but whose attempt during World War II to rid India of British rule with the help of Nazi Germany and Imperial Japan has left a troubled legacy.
Bose was a leader of the younger wing of the Indian National Congress in the late 1920s and 1930s, rising to become Congress President in 1938 and 1939. However, he had to resign from the post following ideological conflicts with Mohandas K. Gandhi. Bose believed that Gandhi's tactics of non-violence would never be sufficient to secure India's independence, and advocated violent resistance. He established a separate political party, the All India Forward Bloc and continued to call for the full and immediate independence of India from British rule. He was subsequently placed under house arrest by the British before escaping from India in 1940.
Bose arrived in Germany in April 1941, where the leadership offered unexpected, if sometimes ambivalent, sympathy for the cause of India's independence. In November 1941, with German funds, a Free India Centre was set up in Berlin, and soon a Free India Radio, on which Bose broadcast nightly. In the first official meeting of the Free India Centre on 2nd November, 1941 in Berlin, Bose was conferred the title of "Netaji", "Jai Hind", was introduced as the national greeting, Rabindranath Tagore's patriotic song "Jana Gana Mana" was adopted as the national anthem and Hindustani, the most widely spoken language in India, as the national language of Independent India. On 26th Januray, 1943, India's Freedom Day was celebrated with great splendor in Berlin. A 3,000 strong Free India Legion, comprising Indians captured by Erwin Rommel's Afrika Korps, was also formed to aid in a possible future German land invasion of India.
The lack of interest shown by Hitler in the cause of Indian independence eventually caused Bose to become disillusioned with Hitler and he decided to leave Nazi Germany in 1943. He traveled by the German submarine U-180 around the Cape of Good Hope to Imperial Japan (via Japanese submarine I-29). Thereafter, the Japanese helped him raise his army in Singapore.
There is a cloud of controversy regarding the death of Subhas Chandra Bose. It is alleged that Bose died in a plane crash in Taipei in Taiwan on 18th August 1945 while on his way to Tokyo and then the Soviet Union. The absence of Bose's body has given rise to many theories that it was possible that he may have survived the crash.(註1)
Subhas, Subhas Chandra Bose, Mr. Ziauddin, Mr. Orlando Mazzotta, Mr. Matsuda, Chandra Bose, Mr. T, Netaji – these are some of the alibis that Subhash Chandra Bose took in different stages of his political career. From Subhas he became Subhas Chandra Bose when he entered the Indian political scene. He disguised himself as Mr. Ziauddin to hoodwink the British and flee to Kabul. As Italian Mr. Orlando Mazzotta, he journeyed from Samarkand to Berlin via Moscow. Later on he sailed to Madagascar on a German submarine in the guise of Mr. Matsuda. From there he took a Japanese submarine to Tokyo where he became Chandra Bose. He next left for Rangoon to lead the Azad Hind Force into battle against the British as Mr. T. After that he became Netaji, a title that was bestowed on him in Germany in 1941.
II.
"Rehearsing Azaad Hind Radio" is a 40-minute video placed within a "set' of a radio studio. The work reenacts selected broadcasts Subhash Chandra Bose made from Berlin on Azaad Hind Radio — these outline his political philosophy and his strategies to attain independence and are interwoven with texts from the JNU nationalism lecture series of 2016.
JNU faced a deep crisis over the months of February and March of 2016. The crisis escalated into a fundamental debate as to the nature of the Indian nation-state. Who or what is 'anti-national'? The question was foregrounded in the month-long lecture series on nationalism conducted last year by JNU Teachers Association (JNUTA) following the "branding" of the university as a "den of anti- nationals" when three of its students were charged with sedition for participating in an event during which anti- national slogans were allegedly raised.
The lectures addressed the meanings, histories and experience of nationalism and its unresolved dilemmas, in India and beyond. The teach-in lectures, which were initially intended for members of the JNU community and delivered principally by JNU teachers, soon gained unanticipated audiences across India and in international forums. Reports and translations of the lectures, live streamed on YouTube, made for a reach that echoed well beyond the 'Freedom Square', the area in front of JNU's Administrative Block.
To consider archival material is to consider not just a problem of history – how do historical facts influence the present? How do they manage to produce their own reality? – but also a question of the poetics of the real, of memory and oblivion.  How does an event relate to its reiteration; how does memory relate to the remembered? Where does the dividing line run between tautology and understanding, between mere mass-media repetition and "cultural memory", between perfect imitation and critical re-production?
When we talk of historical reality, we talk about something that does not exist in itself, but is the product of a work of 'imaginative reconstruction'. Reenactment is an attempt to close the gap that has appeared between what has happened and how we talk about it. There are different levels of reality, the historical one, that we can experience only in an indirect way, and the theatrical one, which is real as well as artificial, because it is always the result of a creative act. The re-enactment does not exist: what exists is an acting practice that has to do with imagination and with precision – truth is an artistic event. Re-enactment consists of the agreement that everything is only a play, a picture, a reproduction, a repetition.
Principally, the untidy process of thought and consideration with its related notions of version, repetition, and failure, are what constitute a rehearsal that proceeds to become the so-called "real thing" of performance. "Rehearsing Azaad Hind Radio" considers rehearsal as a metaphor for a way of thinking, and an operating strategy. When used as a strategy, the rehearsal foregrounds that which takes place on the periphery and that which may be obscured by the presentation of a polished and final piece. The spine of Rehearsing Azaad Hind Radio are my conversations with the actors on performing Bose – what do emotions, presence, and history mean in performance and how does the actor performing an archive become a witness to a historical event? Can the actor's role as a witness and his interpolation determine the kind of relationship between the historical past and the present?
In this work, as well as some of my other works, the actor – who is everything but also nothing – becomes an exemplar for a kind of performative agency that renders a person capable of expressing more than one kind of truth of the self to the scrutiny of power. The figure of the actor or the impostor offers a method of survival that meets the growing intensification of scrutiny with a strategy based on the multiplication of guises and the amplification of guile. At the same time, the term Impostor is also an accusation. One that power can fling at anyone it chooses to place under scrutiny.
The 'non-existence', and therefore the radical freedom, of the impostor and the actor is perhaps why Kautilya's Arthashastra, a foundational Indian political text, is carefully attentive to the actor/ the artist.